Factoring Made Easy
CST Financial Services makes your money available to you when you need it. For a small flat rate, CST Financial will handle the paperwork and give you your money now, so you can keep working.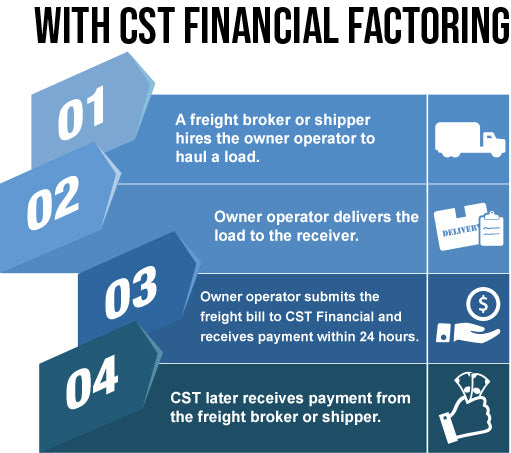 Customer/carrier setups
Rate confirmations
Fuel advances
Paperwork processing
Personal accounting invoices
Collections
Broker bond filing
Perpetual credit checks on your customers.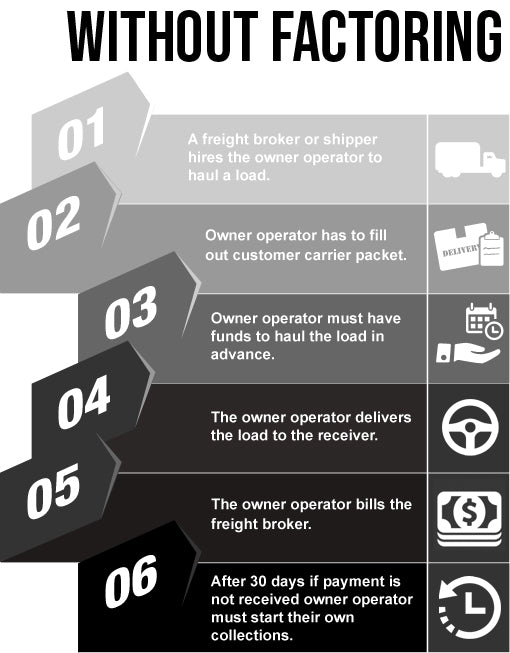 Benefits of Factoring
No Monthly Minimum
No Setup Fees
No Hidden Fees
Customer Invoicing
Free Customer Credit Checks
Competitive Flat Rates
Direct Deposit Funding In 24 Hours Or Less
Nation-Wide Network
Short Term Contracts Available
Customer Packet Set Up
Get Started
What our partners are saying
Jason - Riverton, Utah

"The CST Financial gang is like going into your favorite store, restaurant or watering hole. They know your name and your story, and always go above and beyond in their services. Truly great people that make business a pleasure."

Darrel - Hamilton, Texas

"My company started as a dream. CST Financial has given me the financial freedom to grow my business and make my dream a reality."

Ron - Apple Valley, Utah

"When you're out on the road 6-15 days at a time billing is a real hassle. CST Financial gives me peace of mind knowing that everything is taken care of, the bills are getting paid, and so am I."

Kacey - Holbrook, Idaho

"I run a team of trucks which is a handful all in itself. CST Financial ensures that all my invoices are correct and are processed in a timely manner. Being a small business owner, it is a relief having "friends" on your team."

Blaine - West Jordan, Utah

"Being an owner operator can really take a toll on you. With the help of CST Financial the business interactions and paperwork are manageable, which makes running my truck and managing a business that much easier."

Marlin & Janice - Olympia, Washington

"CST has been a godsend in our line of work. The team makes sure that all our bases are covered! All we have to worry about is the transportation, they take care of all the billing and paperwork! Staff is great!"